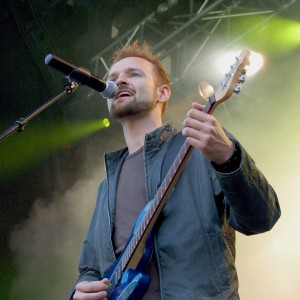 Fynsk sanger, musicalskuespiller, musiker og sangskriver uddannet fra Det Danske Musicalakademi i Fredericia (2001-2004). Michael er desuden uddannet på Cathrine Sadolins internationalt anerkendte sanger/sanglærer uddannelse på Complete Vocal Institute i København (2008-2011).
Michael er linjeleder på Musical Base Camp i Fredericia, et højskolebaseret intensivt kursus for seriøse aspiranter til Det Danske Musicalakademi udviklet i samarbejde med Akademiet. Her underviser han bl.a i solosang/sangteknik, auditionteknik og musicalhistorie.
Michael har arbejdet professionelt i musicalteater-branchen på scener i ind- og udland.
Som performer
"Skatteøen" som Israel Hands
"De 3 musketerer" som ensemble, understudy på Athos og Kong Louis XIII
"Grease" som Vince Fontaine
"Rent" som Gordon
"Lulu – sometimes in dreams" som Dr. Schön
"Tommy" som bl.a The Specialist, Mr. Simpson, The lover & Hawker
Som Producent/vocal coach
"Fame" – Musical BaseCamp 2013
"Rent" – Musical BaseCamp 2012
"The 25th annual Putnam County spelling bee" – Musical BaseCamp 2011
Som guitarist/keyboardist
"Atlantis", gtr/keyb – Nordfyns Friluftsspil 2012
"Skatteøen", gtr – Nordfyns Friluftsspil 2011
Hertil kommer adskillige andre roller og forestillinger samt års erfaring som vocal coach og orkester- & korleder i forskellige sammenhænge.

Siden 2007 sanger, guitarist og sangskriver i det svendborgensiske rockband Famous Last Words, der bl.a. åbnede Høje Bøge Open Air 2009 side om side med navne som Tim Christensen, Niarn og Sys Bjerre.